So much goes into planning a children's party. I'm sure if you've hosted a party before, you know just how much there is to take care of, and if you're planning your first, you must be finding out! We strive to make all this easier for you by giving a complete party entertainment package, so when you book a JoJoFun entertainer, you know for sure the kids will be completely entertained for the duration, and you don't even have to worry about providing a sound system as we bring all our own microphone and equipment.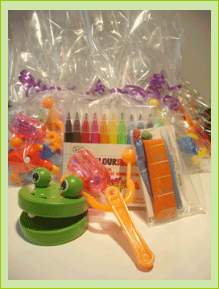 So with entertainment taken care of, what more can we help you with? We'll begin in this week's post with our super Party Bags!
"The party bags were brilliant, all the gifts were of very high quality and no plastic rubbish. Well worth every penny! Many thanks," Alice, London
Our Party Bags contain children's party gifts that kids love. They are quality party presents carefully selected to suit the age range and gender of your party guests.
"A big thank you for the delivery of the Party Bags today, I've had a look inside a couple of them and the gifts are fabulous." Marcia, London
Here are a few suggestions for non-gender specific party bag gifts:
Ages 0 – 3
• Animal Photo Frame
• Wooden Castanet
• Rubber Duck
• Sandcastle Windmill
• Magnetic Note Clip
• Bubbles
Ages 3 – 6
• Animal Sticker Pack
• Magic Wallet
• Wooden Castanet
• Happy Ball
• Modelling Clay
• Bubbles
• Rocket Balloons
Ages 7 – 10
• Flexi Flyers
• Jumbo Glider
• Juggling Balls
• Rocket Balloons
With years of experience, we can help you choose the right gift options for your party guests.
"The balloons and party bags were also a big hit. It definitely made our lives much easier, so thank you for providing those as well." Lesley, London
"The party bags were superb and reasonably priced. Again they remain unbeaten." Samantha
They are priced at a competitive £5 each with £12 delivery per lot.
Visit our
Party Bags web page for more information.
Buy party bags for children's parties in London online
, alternatively you can email
jojo@jojofun.co.uk
or telephone
0774 319 6691